The best review you can give a book is

I can't wait to read the sequel
And, ladies and gentlemen, that is exactly how I feel about Next Year in Havana by Chanel Cleeton. I can't wait to get my hands on When We Left Cuba to find out more about the Reves family and specifically more about the aunt and her secret dealings as a spy.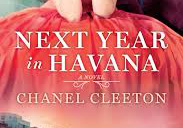 But first things first – I first learned about Next Year in Havana in Reese Witherspoon's Instagram book club and got curious. 9 out of 10 times their book recommendations are spot on. When I finally got my hands on a copy I could not stop reading. Suddenly I realised how little I knew about Cuba, the revolution, Castro, Che Guevara and what it all meant to the people living there. Cuba suddenly felt very far away from Sweden. This read was an eye-opener to say the least.
But, more importantly, this was an un-put-down-able book. I simply could not stop reading. From the very first pages when the Peres family sneaked out of Cuba at the very last moment 'til that day, 60 years later, when the grandchild returns to spread her grandmother's ashes.
What a read this was. Revolution, love, disappointment, fear, death, happiness, reunion and loss.
I truly recommend Next Year in Havana. It's such a well-written book and you can fell that Cleeton knows what she's talking about. The fact that she herself is a grandchild of at Cuban refugee gives credibility to the book.
Read it! You won't regret it.